This article was written by Oleg Korolov, UX and marketing officer at New AutoMotive.
Last week, Rishi Sunak confirmed that he will reverse certain green targets. Amongst several policies that Sunak was willing to cut or delay, the phase out of petrol and diesel cars was put on the chopping block, with a confirmed five-year delay despite the [Conservative] government's original target.
This move is not only unpopular with motorists, industry, and the wider public – it also raises economic concerns and threatens vital aspects of Britain's industrial strategy moving forward.
Electric vehicles are undeniably cheaper to run, contribute to improved air quality due to their lack of tailpipe emissions, and are increasingly preferred by drivers over their combustion counterparts. Our data at New AutoMotive shows that the UK could achieve an 85% electric vehicle (EV) market share by 2028 and is making consistent progress toward the goal of 300,000 public charge points. The UK is also the fifth best prepared nation for the EV transition, thanks to sensible and fact-driven policies implemented by Sunak's predecessors.
Reacting to the news, the UK motor industry has criticised plans to water down policies. Kate Brankin, the chair of Ford UK, noted that the industry has already made considerable investments to meet the 2030 deadline, with a $50 billion commitment from Ford alone.
We were clear in our response that delaying the 2030 deadline would pull the rug out from under motorists and industry, and would deal a hammer blow to the UK's leadership on climate change. It would be incredibly disruptive for an industry which has invested billions based on what they were told was settled policy, undermining jobs and investment.
It is investment that would benefit British workers, motorists, and industry. Chargepoints don't sprout from soil, cars aren't conjured from dreams drafted on the backbenches, and power grids don't organically evolve to meet our expectations – despite claims from Suella Braverman that the discussed policies "would bankrupt the British people".
The reality is that the 2030 deadline is one of the few areas of net zero that will actually save people money. Shifting to electric cars and vans will drive down costs for UK drivers so delaying the ban will deny people access to cheaper motoring.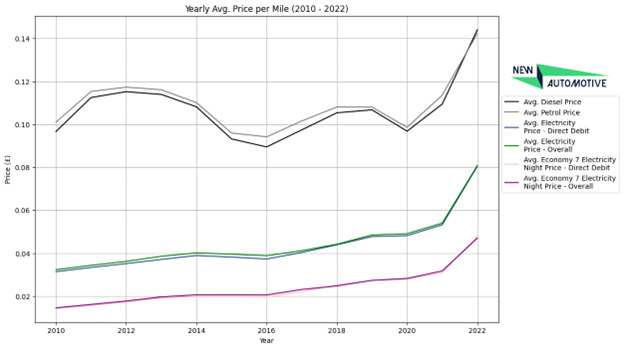 New AutoMotive's analysis shows that the average cost per mile can be almost two-thirds cheaper in an EV – when compared to fuel costs. Additional benefits to drivers include massively reduced maintenance, ability to charge at home – and of course – cleaner air.
EV motorists are already reaping the rewards of energy security from a predominantly homegrown renewable electricity industry. They have unprecedented control over their energy supply and the prices they pay, with freedom to charge when energy prices are lowest (this is often automated at the driver's discretion). On the flip side, drivers of internal combustion engine (ICE) cars are increasingly at the mercy of foreign nations' profit-driven fuel prices as evident through the regular manufactured shortages of oil from the Organization of the Petroleum Exporting Countries (OPEC) and recent price hikes linked to the war in Ukraine.

On a national scale, a dependence on fossil energy would continue to threaten and undermine the UK's energy security, forcing many to choose between exorbitant prices and freezing, despite ready and homegrown alternatives being available. These alternatives would grant consumers more choice over prices, carbon intensity, and economic prosperity.
An era of cheap, plentiful, clean power for all is within sight. The policy framework needed to achieve this is already in place. The Climate Change Act 2008, and the UK's target of net zero emissions by 2050 continue to be the mainstays of UK climate action, with policies like the forthcoming Zero Emission Vehicle (ZEV) mandate driving progress.

If Britain says that 2030 is just too hard then our world-leading status will be lost. China, Germany, and the US would be more than happy to capitalise on this market should the UK score this own goal. This is a matter of investment into our futures, and the creation of a resilient, well-paid, and sustainable industry that benefits everyone – regardless of whether they own a car.
At New AutoMotive we're refusing to throw in the towel – it's not too late to get the UK back on track for 2030.
New Automotive has launched a petition calling on Rishi Sunak not to abandon the government's commitment to phase out sales of petrol and diesel cars by 2030.