The UK has been ranked the fifth most attractive country in Europe for electric vehicle (EV) market potential by the Electric Vehicle Country Attractiveness (EVCA) Index.
Developed by Cornwall Insight and the law firm Shoosmiths, the new index uses a range of factors to inform its decision, from purchase subsidies to national EV charging targets.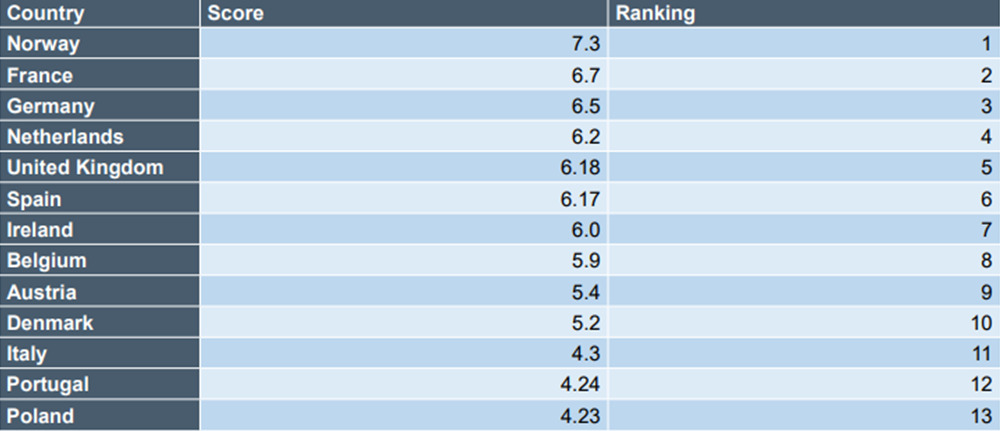 Ireland was found to have one of the best EV growth rates of over 50%, alongside Belgium and Poland.
Norway was named the leader in EV adoption, which Cornwall Insight reported was due to the country's subsidies, tax cuts and large-scale charging network.
"The results of the Electric Vehicle Country Attractiveness Index may not come as a surprise, after all Norway is well known for its EV success, however it is the promise for the future across Europe which is the most encouraging," said Jamie Maule, research analyst at Cornwall Insight.
"Although the countries leading the Index, including the UK, had an early advantage in implementing EV incentives, a larger market share is not the only indicator of success. Even countries currently lower in the rankings are showing promising year-on-year advancements, indicating a shift in interest towards the EV market.
"As the Index evolves, it will be interesting to see how countries move up the ranks through the implementation of new policies, targets, subsidies, and investment incentives, hopefully resulting in a surge of EV adoption throughout the continent."
The UK's EV market has continued its growth trajectory, as shown by some of the top vehicle manufacturers in the UK recently reporting one in four vehicle sales being electric.
Work still needs to be done if the UK is to continue growing its EV market however and warning signals are already beginning to appear.
Earlier this month the Society of Motor Manufacturers and Traders (SMMT) warned that UK's ability to compete as an EV production leader is "at risk" due to increasingly attractive international EV schemes and policies.
The chargepoint operator, Liberty Charge also warned that unrealistic expectations from authorities could put the UK government's target of 300,000 public EV chargepoints by 2030 in jeopardy.