The UK's overall renewable generation capacity grew by 7.7% to 53.5GW during 2022, revealed the Department of Energy Security and Net Zero (DESNZ).
New data from DESNZs 2022 Energy Trends has revealed that 13% of this capacity growth is attributed to Scotland, followed by England at 6.9%, Wales (1.2%), and Northern Ireland (0.7%).
Renewable capacity at the end of 2022 by technology and country: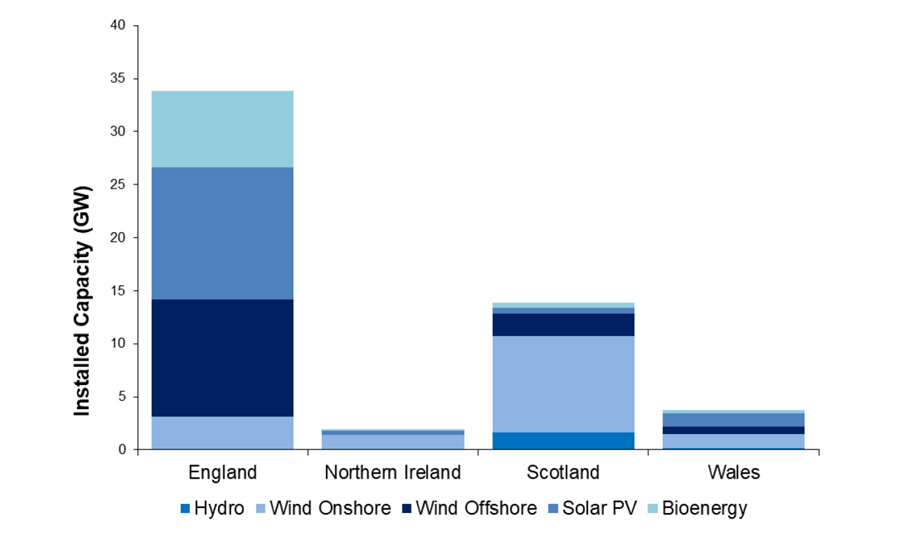 The technology which experienced the most growth in capacity was offshore wind, which grew by 24%, accounting for 69% of the UK's total renewable capacity growth.
According to DESNZ this was largely attributed to Hornsea 2 (dubbed the world's largest windfarm at the time it entered operation in 2022) and Moray East which added 1,386MW and 950MW of capacity respectively.
Moray East has recently come under scrutiny for using a loophole in its Contract for Difference (CfD) agreement to net £647 million.
New offshore wind capacity was predominantly seen in Yorkshire and the Humber (52%) and Scotland (42%).
Onshore wind grew by only 2.4%, accounting for 8.9% of the UK's renewable capacity total growth. Scotland boasts 97% of this capacity, with the largest schemes being Sandy Knowe (86MW) and Kennoxhead Phase 1 (62MW).
Largest new schemes (including capacity increases) in 2022:


Renewable generation also increased by 10.5% to 134.9TWh in 2022 and Scotland once again, held the lion's share with 29.4% of this new generation attributed to the country, followed by Northern Ireland at 16.4%, Wales at 5.1%, and England had the lowed increase in generation at 4.4%.