New analysis from Cornwall Insight's All-Island forward curve has shown Ireland must secure almost 1GW additional capacity at every renewable energy auction until 2030 to avoid missing climate targets.
Last December the government increased its renewable capacity goal from 15GW in the Climate Action Plan 2021 (CAP21) to 22GW in CAP23 so as to reach an 80% renewable electricity share by 2030.
This catapulted the solar target from 1.5-2.5GW in CAP21 to 8GW, onshore wind was boosted to 9GW (from 8GW in CAP21), whilst offshore wind remained at 5GW with 2GW added for green hydrogen production.
To achieve this new target Ireland must significantly bolster its solar and onshore wind capacity, securing an additional 0.5GW and 0.3GW respectively at every Renewable Electricity Support Scheme auction (RESS).
This increase would see a total of roughly 1.7GW of solar capacity secured per RESS and 0.7GW of onshore wind.
Renewables capacity targets under CAP23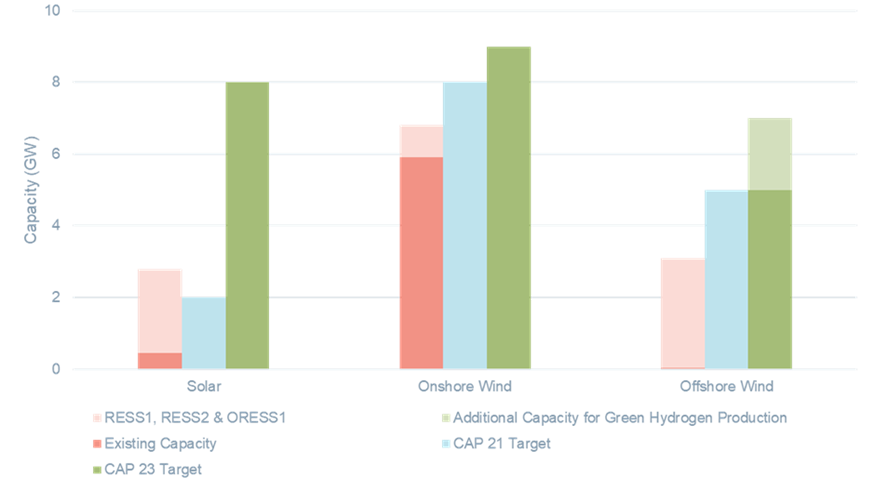 Capacity needed for future Auctions to meet CAP 23 targets
Offshore wind is the strongest player in Ireland's renewable energy mix at present with the technology currently meeting CAP23 targets, with companies including EDF Renewables Ireland continuing to progress their offshore projects.
A key factor in the technology's prosperity in Ireland lays in the more than 3GW awarded to offshore wind projects during Ireland's first Offshore Renewable Electricity Support Scheme auctions (ORESS) in what was dubbed a "breakthrough moment for Ireland's offshore wind future."
Despite this success, the market researcher warned that some projects secured via the ORESS won't go live until post-2030 and will therefore be unable to contribute to the target.
Limited capacity for connecting renewable generation and the "unpredictable nature" of solar and wind raising concerns over system security are additional hurdles highlighted by Cornwall Insight in Ireland's road to achieving its renewables targets.
It is also crucial, continued the company, that the country's investment in storage technology does not lag behind renewable generation, causing clean energy to be lost rather than stored and used later.
"The increased ambition for building renewables over the last year is encouraging, however, there are significant obstacles to overcome if Ireland hopes to achieve its renewable energy targets. One major challenge is increasing the energy obtained from each auction until 2030, which is no small feat. Merely maintaining the current pace will not suffice if we aim to meet the targets," said Sean Hughes, modelling analyst at Cornwall Insight Ireland.
"Even if we manage to enhance procurement adequately, the absence of grid connections and energy storage could render those efforts futile. After all, if the energy cannot reach consumers or be stored for future use, the purpose of its production becomes obsolete.
"Ireland stands at a critical juncture in its net zero journey, The recent call for evidence paper on CAP24 is a resounding plea for collaboration in the industry to meet its ambitious renewables targets, and it is hoped that the subsequent roadmap will help to cement Ireland as a leading renewable energy nation. By prioritising the procurement of renewable resources and fortifying its grid infrastructure, the country can pave the way towards a sustainable and resilient energy future."
Current± publisher Solar Media is hosting the third edition of its Wind Power Finance & Investment Summit Europe in London this 19-20 September. The conference will focus on investment strategies, alleviating bottlenecks, and which countries and technologies are the most exciting ahead as the industry sets to expand to help reach 2030 targets. Packed with industry leaders representing financiers, investors, developers, government departments and more this is the leading conference for decision makers in the European wind industry. More information, including how to attend, can be read here.