Ireland's first Offshore Renewable Electricity Support Scheme (ORESS-1) auction has seen over 3GW awarded for offshore wind projects.
The results have been dubbed a "breakthrough moment for Ireland's offshore wind future" by the Irish government and could be a crucial milestone in bolstering the nation's wind generation sector. In total, 3,074MW has been awarded to various wind projects whereas 1,175MW were unsuccessful as part of the scheme.
The projects will deliver over 12TWh of renewable electricity per year and is the largest volume of renewable energy Ireland has ever procured at auction.
The Minister for the Environment, Climate and Communications, Eamon Ryan said: "The provisional results of the ORESS-1 auction are not just a hugely positive story for Irish energy consumers, but for Ireland as a whole. The results are further evidence of what many of us have known for a long time; that we, as a nation, can develop and produce enormous quantities of clean energy – securely and at low cost.
"My Department is developing further offshore wind auctions to bring us closer to this energy-independent future, while also chairing the whole-of-Government Offshore Wind Delivery Taskforce to maximise the benefits to the economy, local communities, and the environment."
The auction results "surpassed expectations" according to the Irish government both in terms of the total volume of renewable energy that has been procured and the low price at which it has been secured. The competitive price secured at an average of €86.05/MWh (£74.85/MWh) and is recognised as one of the lowest prices paid by an emerging offshore wind market in the world, the government said.
For comparison, the Irish government disclosed that the average wholesale electricity price in Ireland over the previous 12 months was in excess of €200/MWh (£174.02/MWh).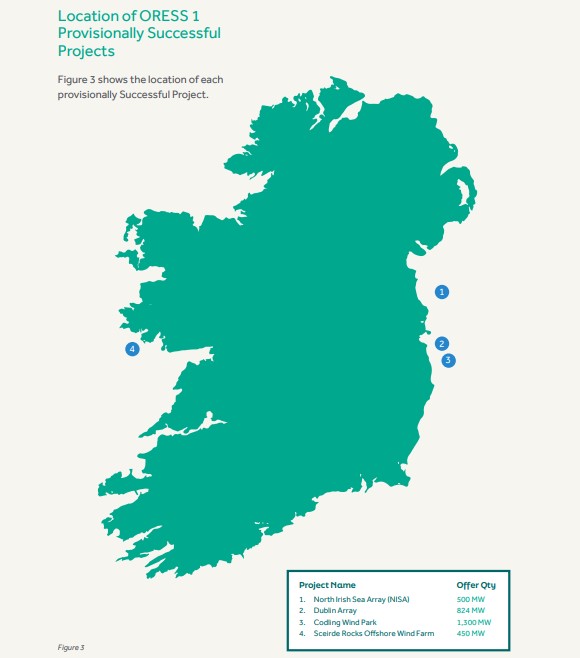 Four projects in total were successful as part of ORESS-1. This includes the North Irish Sea Array (NISA) with an offer quantity of 500MW, the Dublin Array, which received an offer of 824MW, the Codling Wind Park which was awarded 1,300MW and the Sceirde Rocks Offshore Wind Farm which was awarded 450MW.
The North Irish Sea Array (NISA) is an offshore wind farm being developed by Statkraft and Copenhagen Infrastructure Partners (CIP) off the east coast of Ireland.
"Being successful in Ireland's first offshore auction is a truly momentous event – not just for Statkraft, but for the entire country. Ireland's energy security and our collective future climate depend on the ability to harness the clean, renewable energy like the vital resource which currently remains untapped off the Irish coast," said David Flood, senior vice president for Offshore Wind at Statkraft.
"Today's positive result means that we, alongside our partners, CIP, can continue to work apace to get our offshore project, NISA, off the ground and put Ireland firmly on track to a decarbonised future."
The Dublin Array was first proposed in 1999. It now will consist of between 39 and 50 turbines with an individual turbine capacity of 15MW+. The project, which is expected to cost in excess of £870 million (€1 billion), will be RWE's first offshore project in the company's portfolio.
Codling Wind Park is a proposed offshore wind farm being developed off the coast of County Wicklow by EDF Renewables and Fred. Olsen Seawind – a dedicated offshore wind developer.
The project has a total area of approximately 125km² and could have a combined maximum total energy output of up to 1,300MW. Less than 100 turbines will be utilised to produce the renewable energy. This wind farm will harness wind speeds of 9.7m/s at 130 metres above sea level and be situated on shallow waters with depths ranging from 10 to 25 metres.
The final project to be awarded an offer is the Sceirde Rocks Windfarm being developed off the coast of Galway by offshore wind business Corio Generation via Irish and Gaeltacht based company Fuinneamh Sceirde Teoranta (FST).