Welcome to Current±'s sister site Solar Power Portal's day two coverage of Solar & Storage Live 2023, taking place at the NEC in Birmingham over 17-19 October. Our joint editorial team will be reporting live from the event, bringing you all the insight, news and views from the show floor.
---
'There's an opportunity for the UK to be a leader in green tech,' says Skidmore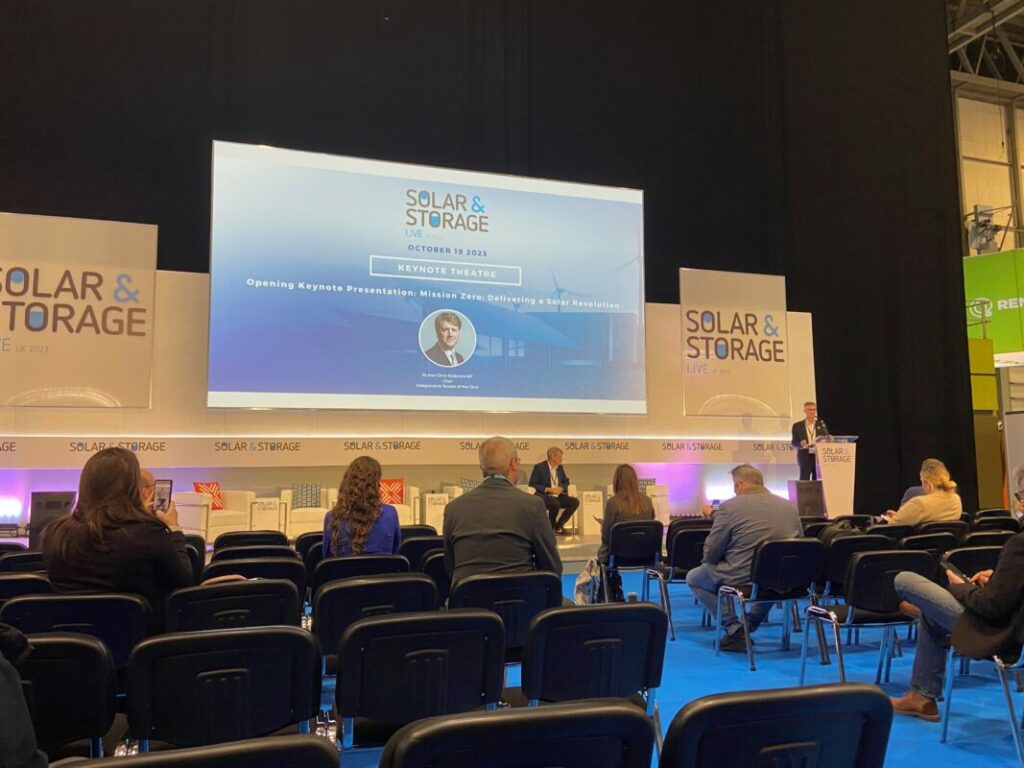 "There is an opportunity for the UK to become a leader in the technologies of the future," declared Rt. Hon Chris Skidmore MP who kickstarted day three of Solar and Storage Live 2023.
As stated by Skidmore, there is a huge appetite amongst the UK energy industry to innovate and scale green technologies, such as battery energy storage and solar. According to Skidmore, this could see the nation become leader in the "technologies of the future".
However, Skidmore was keen to highlight that this drive must be matched by the current government. He said: "UK government must get on board and then we can lead in this solar and net zero space. There's no future economy without a green economy."
Skidmore warned the Solar and Storage Live audience that delaying net zero will lead to increased costs to the nation. This is even more severe when factoring in the opportunity the UK has to expand its economy and orientate it towards green technologies.
Crucial to government support is integrating the correct regulations and legislative support for these green technologies such as solar.
"The decisions we [government and industry] make today will be with us for the century to come. We now have an opportunity to fix mistakes that have been made," he said.
Concluding Skidmore's opening remarks, he pointed forwards towards what he described as the "second revolution that is coming" with this expected to be "recognising the flexibility of the grid".
---
'We expect 15GW of floating solar PV by 2025,' says Rystad Energy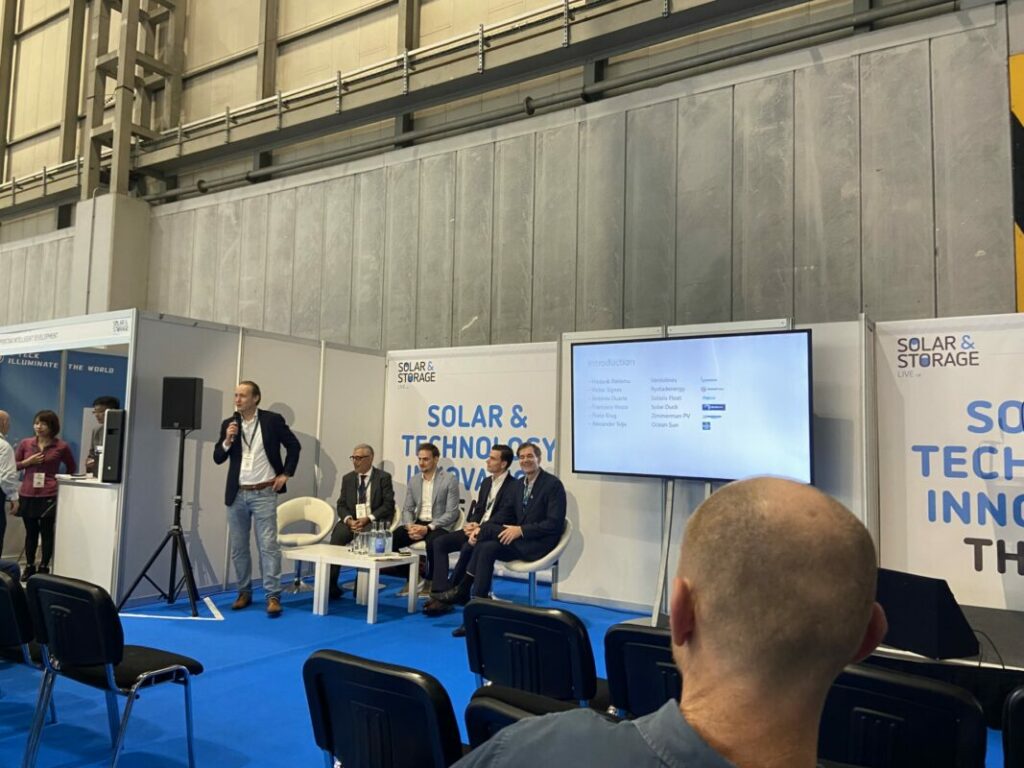 "We are expecting 15GW of floating solar PV to be installed by 2025," said Victor Signes, senior analyst – renewables at Rystad Energy during the 'A Wave of Opportunities- Development & Deployment of Floating Solar Farms' panel.
Unsurprisingly, China is a huge player in the floating solar industry with many countries in South East Asia also exploring the technology.
On the panel, Alexander Telje, chief commercial officer, Ocean Sun said: "China is the driving force for floating solar."
But why is floating solar popular in South East Asia? This is due to various reasons, but one to highlight is the difficulty in developing nationwide grids in archipelagos – something the region is well known for. Floating solar therefore is able to provide off-grid communities with access to green energy.
In terms of leading regions for floating solar, Europe is often ranked second with France, the Netherlands, Portugal and Bulgaria all cited as key European countries spearheading the technology's advancement.
With the technology's potential in being deployed at scale, it is important to understand some of the biggest constraints – a topic discussed by Franz Krug, project manager – Floating PV, Zimmermann PV-Stahlbau.
"The biggest constraints in the current market are permitting and grid connections," Krug said.
For potential developers of floating solar projects, Telje gave the following advice: "The bigger you build a project, the cheaper it is."
---
Labour government would have "enormous opportunity" to galvanise solar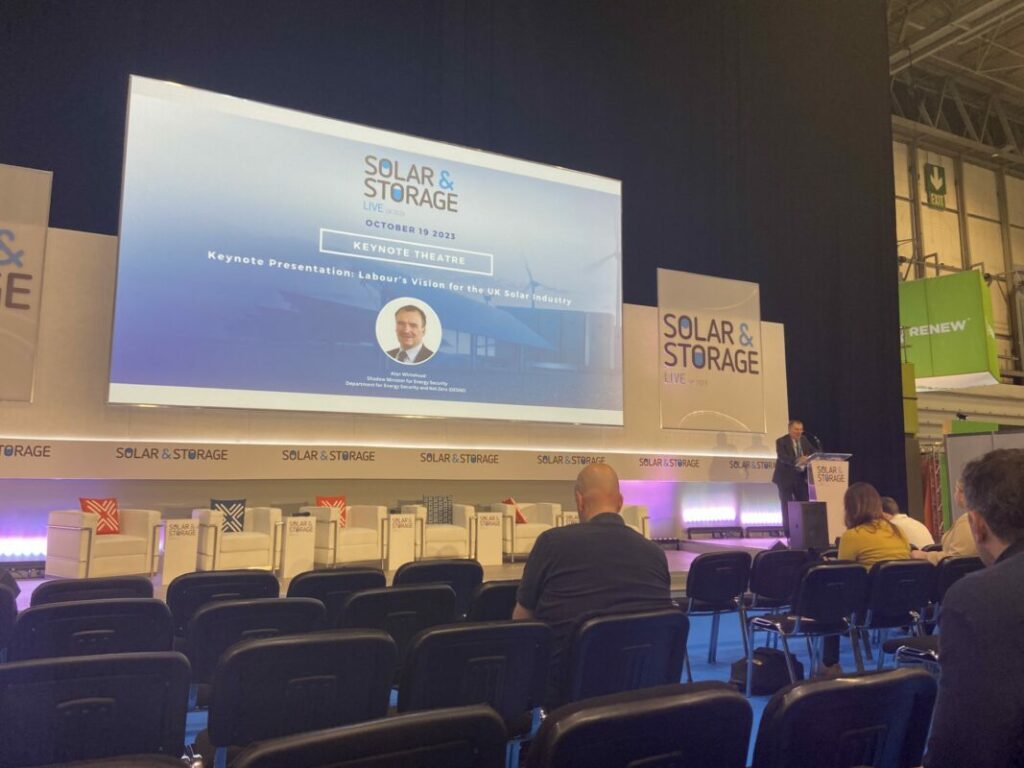 "We are on course to get a new government next year and this gives an enormous opportunity to galvanise everything to do with solar," said Alan Whitehead, shadow minister for Energy Security, Department for Energy Security and Net Zero (DESNZ) on the final keynote at Solar & Storage Live 2023.
With the Conservative government having announced various delays to the UK's net zero goals in recent weeks, it is no surprise that Labour is ramping up its ambition to turn the UK into a "clean energy superpower".
Pivotal to Labour's plans is the use of solar. This was reaffirmed by Whitehead who said: "Solar is going to play a substantial part in the energy mix we are aiming for."
One of the biggest announcement's made by the Labour government at its party conference was plans to "treble solar and quadruple offshore wind".
In terms of achieving this ambition, Whitehead explained that although rooftop solar will have a role, the primary focus will be from large-scale solar farms. These large-scale solar farms could also support the creation of seasonal energy storage via green hydrogen.
Whitehead said: "We want to look at the longer role of solar in how it can mesh off-grid with what we need for storage as part of the low-carbon energy system.
"Large-scale solar can play a huge role in off-grid hydrogen production to support this storage."
It is expected that this green hydrogen would then be stored in vast underground geographic formations called salt caverns. This particular use of storage could be crucial for balancing the grid.