The Office for National Statistics' latest Climate Change insights data has revealed that 2023 has been a "warmer than average" year as consumption-based greenhouse gas (GHG) emissions fall by only 2% from 2018.
According to the paper, UK provisional mean temperatures for January and February 2023 were 1.7 degrees Celsius above the 2020 average.
As a result, there has been a 28% increase in the annual average of "summer days" (days that surpass 25 degrees Celsius) alongside a 16% decrease in the number of "icing days" (days that experience temperatures below 0 degrees Celsius).
This follows the IPCC's latest report warning that emissions will need to be cut by almost 50% by 2030 to stay within the 1.5°C maximum global temperature increase.
Public concerns reflect these environmental changes with 64% of adults saying they are "somewhat" or "very worried" about the impact of climate change according to the Opinion and Lifestyle Survey (OPN) from 5 April to 1 May 2023.
Since 1990, GHG emissions on a residence basis (emissions by UK residences and UK-registered businesses) have fallen by over a third (39%). Human health and social work activities accounted for 1% of UK emissions in this provisional measure in 2021, falling by only 11% since 1990.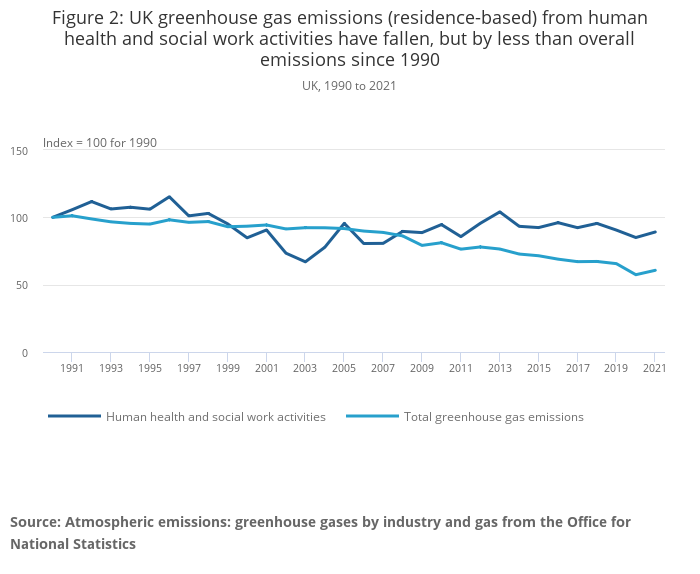 Despite this, a study by Lancet Planetary Health found that NHS England emissions have fallen by 26% since 1990, with emissions per inhabitant decreasing by 37% and emissions per unit spend by over 77%.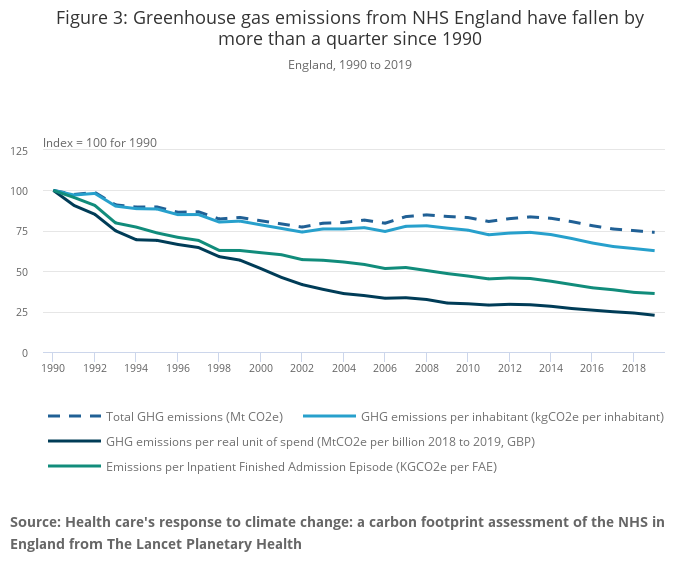 Earlier this year, Current± spoke to Marc Beaumont, head of sustainability at Hull University Teaching Hospitals NHS Trust to discuss the NHS trust's journey to net zero.
When asked what the biggest challenge facing the NHS in terms of decarbonisation is funding:
"All of this requires investment and although a number of the technologies have good paybacks, there are a couple factors for example, organisations may need to reconsider the payback periods and extend some of them," said Beaumont.
"But even notwithstanding that, capital funding needs to be available, you can have a scheme that has a fantastic payback, but if the organisation doesn't have funding or can't access funding, it still means that those projects can't go ahead. So funding is a real challenge."
The full interview can be found here.