Green Finance Institute and Zapmap UK have released a "UK first" report revealing a wide gap in the utilisation of ultra-rapid electric vehicle (EV) chargepoints.
The report uses Zapmap's partnerships to record and analyse charging sessions from around 70% of all public chargepoints across the UK to show how the utilisation of charging has changed over time.
Zapmap and Green Finance Institute introduced two ways to measure utilisation rates: the exact time-based utilisation of chargepoints and the estimated energy-based utilisation of chargepoints.
Tracking data since 2018, the two companies revealed how the two measures differ: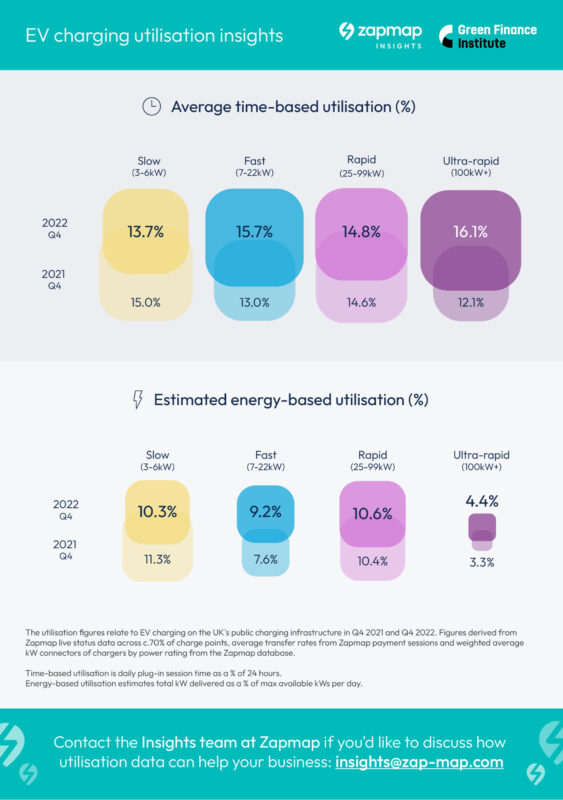 Overall the data shows time-based metrics demonstrating higher utilisation at an even level across power ratings, whereas energy-based metrics show a lower level of utilisation that varies significantly across power ratings.
The analysis showed a "particularly wide gap" between the two measures of utilisation for ultra-rapid chargers (100kW+) jumping from 4.4% for energy-based to 16.1% for time-based utilisation.
A key factor in explaining this gap is that there is usually a difference between the maximum power rating of a chargepoint and the charging capabilities of an EV, the report said.
Additionally, rapid chargers (25-99kW) showed a energy-based utilisation of 10.6% in Q4 2022, significantly higher than their ultra-rapid counterparts at 4.4%.
The report also noted that between Q4 in 2021 and Q4 in 2022 the time-based utilisation of chargepoints remained relatively stable.
On average time-based utilisation increased from just under 14% in Q4 2021 to 15% in Q4 2022.
Ultra-rapid chargers again represent an exception with their time-based utilisation increasing from just over 12% to 16% over the same period. This shows that ultra-rapid chargers remain in high-demand despite a 78% increase in the technology between 2021 and 2022, added the report.
"It's great to see these utilisation figures coming into the public domain because they can really help us move the conversation on from simply talking about the number of charge points to looking more closely at charging behaviour and patterns on different types of chargers. This in turn can help to inform local authorities and investment, ensuring the right charging provision is installed in the right places," said Melanie Shufflebotham, co-founder & COO at Zapmap.
"As ever, new analysis often raises more questions than it answers. But one clear trend that both measures highlight is the increasing utilisation of ultra-rapid charge points, and an expectation that this will continue as more vehicles enter the market with improved charging capabilities."
Lauren Pamma, director for transport programmes at the Green Finance Institute, added: "The data in this white paper is the start to providing financiers with the information and clarity they need to understand utilisation, and therefore reduce the risk in financing the infrastructure underpinning the EV transition.
"Zapmap's data has the potential to enable innovative financing mechanisms such as utilisation-linked loans, which the Green Finance Institute has been developing, to be realised."