The EV World Congress 2023 has kicked off today (10 October) at the Novotel London West, bringing together the best and brightest from the emobility sector for a series of panels and presentations.
Current± will be covering the biggest stories direct from the event over its two days, bringing you all the insight, news, and views from the conference.
---
'Motorsport is a fantastic tool for sighting climate change,' says Formula E's Pallé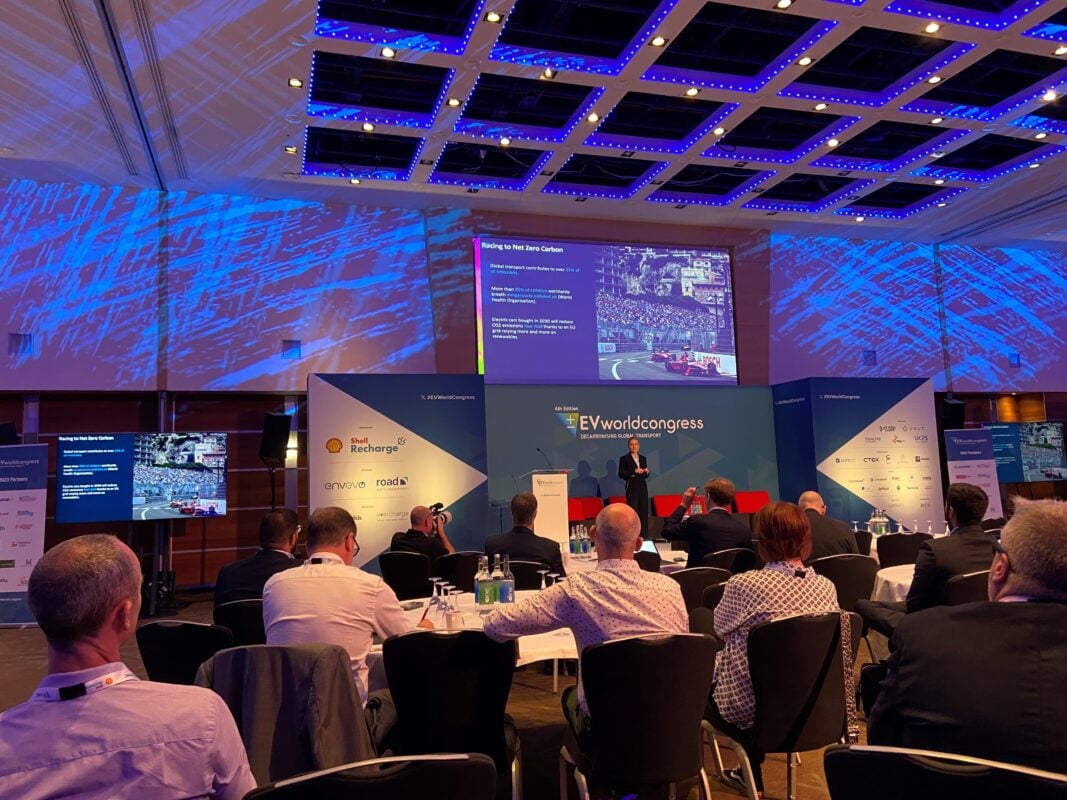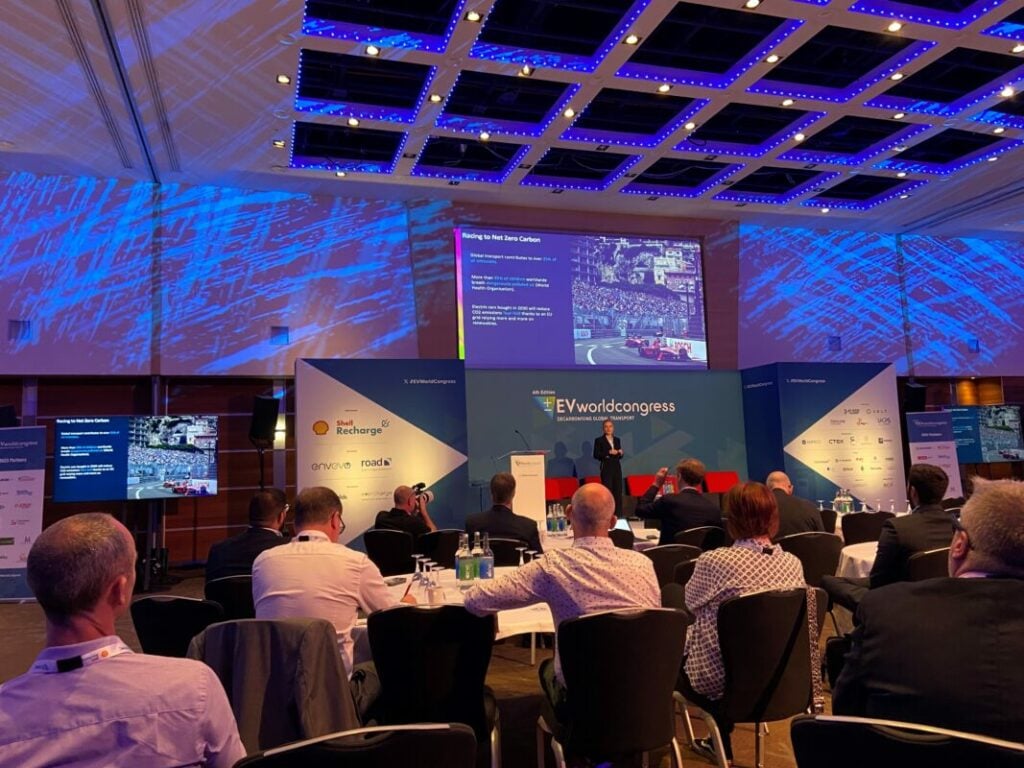 "We need a solution to fight climate change and motorsport is a fantastic tool," said Julia Pallé, sustainability director of Formula E, during her opening keynote at the EV World Congress event.
Pallé highlighted that the use of motorsport could be a method to increase awareness for electric vehicles (EVs). By being on the main stage of global sport, thousands of viewers are able to observe not only the competition but the innovative solutions and technologies being implemented for the races.
"The championship can advance technology and can also change perception on EV adoption," Pallé said. This is an important factor and perfectly highlights two main aspects in how Formula E can aid the EV sector.
The competition, which features 11 teams racing, 116 races to date since its inception, 10 race locations and 14 confirmed races, can also spearhead the EV revolution by using technological advancements, – something its counterpart Formula One is well known for – to boost both EVs and EV charging infrastructure.
Pallé also noted that there is a lag time for charging technology to reach consumers and this tends to be around four years.
Pallé highlighted that EV infrastructure will be supported this year via ultra-fast charging and this could help heal anxiety around charging times – a factor often recognised as one of the biggest obstacles for potential EV adopters.
---
UK must prepare for a 'tidal wave' of EV projects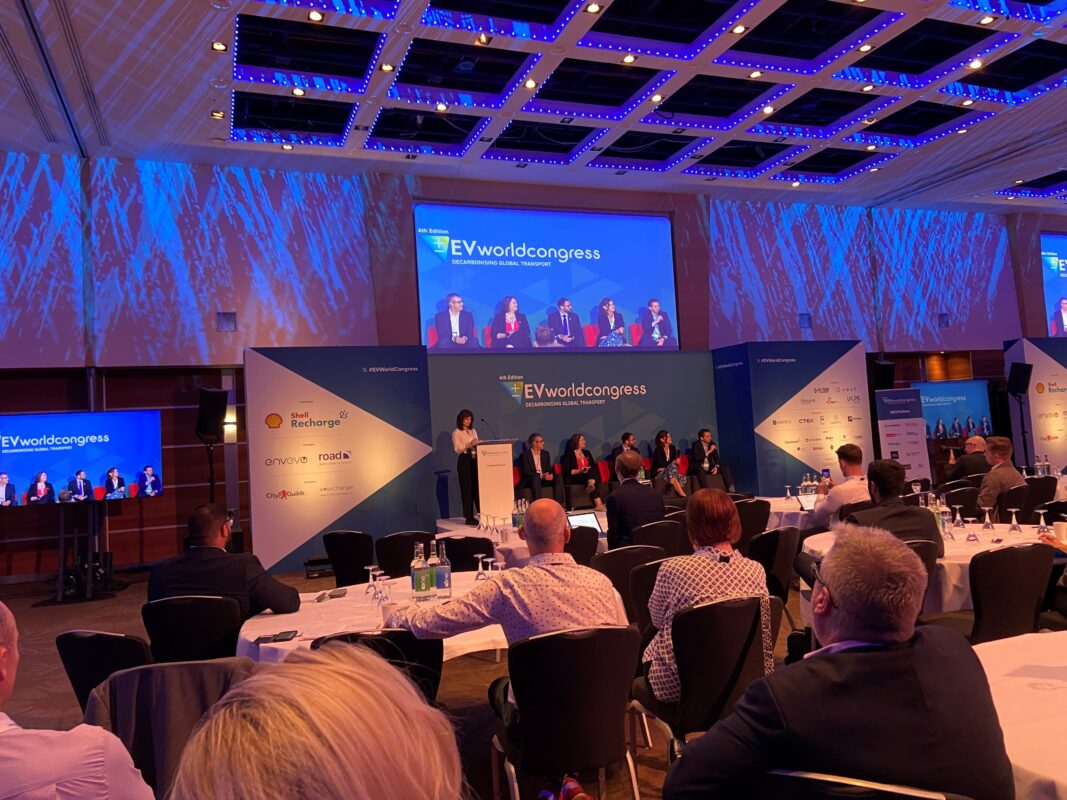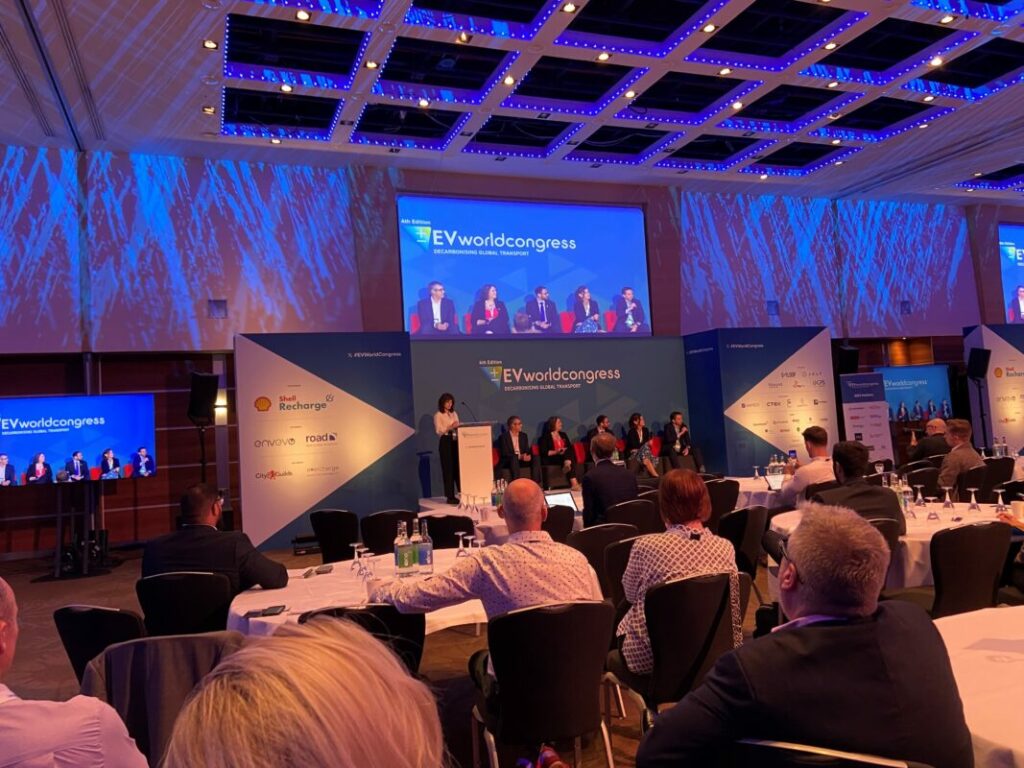 "If you look at everything coming, we're starting to see a tidal wave of EV chargers and projects," said Ian Johnston, chair at ChargeUK, on the 'State of the Charging Market in the UK – Are We on Track for 300,000 Charge Points by 2030?' panel discussion.
This "tidal wave" could be a huge boost for the EV sector as a whole and signifies the positive traction the industry is continuing to gain despite various governmental delays; a perspective shared by fellow panellist Melanie Shufflebotham, co-founder and chief operating officer of ZapMap.
"We're really close to hitting 50,000 chargers, which is an amazing achievement," Shufflebotham said. One of the reasons for this, as explained by Johnston, is that EV charging infrastructure developers are not waiting for the demand to be in place before building the EV mobility's backbone.
It is important to note some of the challenges in the industry and what is currently holding back wider adoption trends. Jack Cousens, head of roads policy at The AA, said: "A lack of public chargepoints continues to be one of the biggest deterrents for potential EV adopters."
With this viewpoint, it is clear to see that more work must be done to scale EV charging infrastructure. But there are frustrations that some of the relevant projects needed to support this are not moving fast enough. On this, Johnston said: "We need to work with government on this."
Another crucial factor to consider, and one discussed on the panel, is the need to prioritise quality over quantity for EV chargers. If thousands of EV chargers are developed across the UK, but many are unreliable, this could be detrimental for the industry.
"It's good to have a clear target (300,000 chargepoints by 2030) but we need to be more aspirational on what this means. For example, this should mean having the right charger in the right area and having the right infrastructure in the right place," said Cousens.
"The chargepoint must be as simple to use for everybody."
---
'We could save £400 million of investment via flexibility,' says UKPN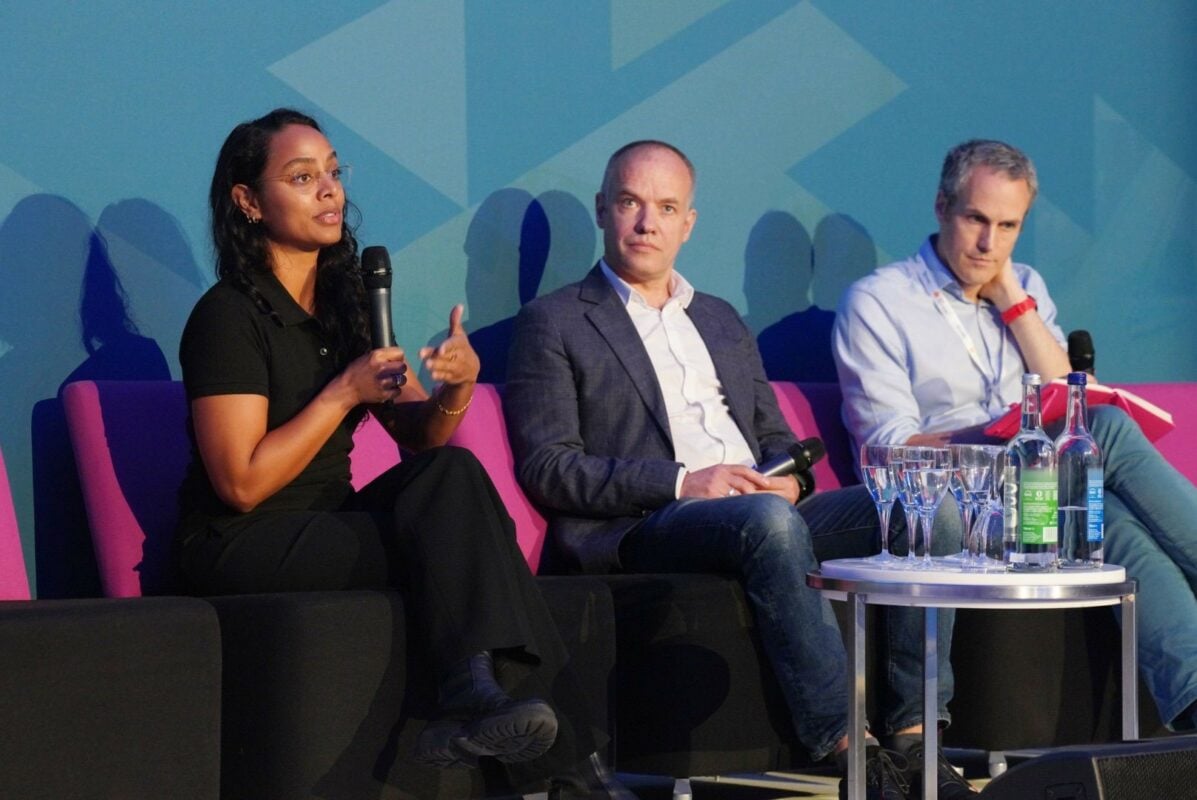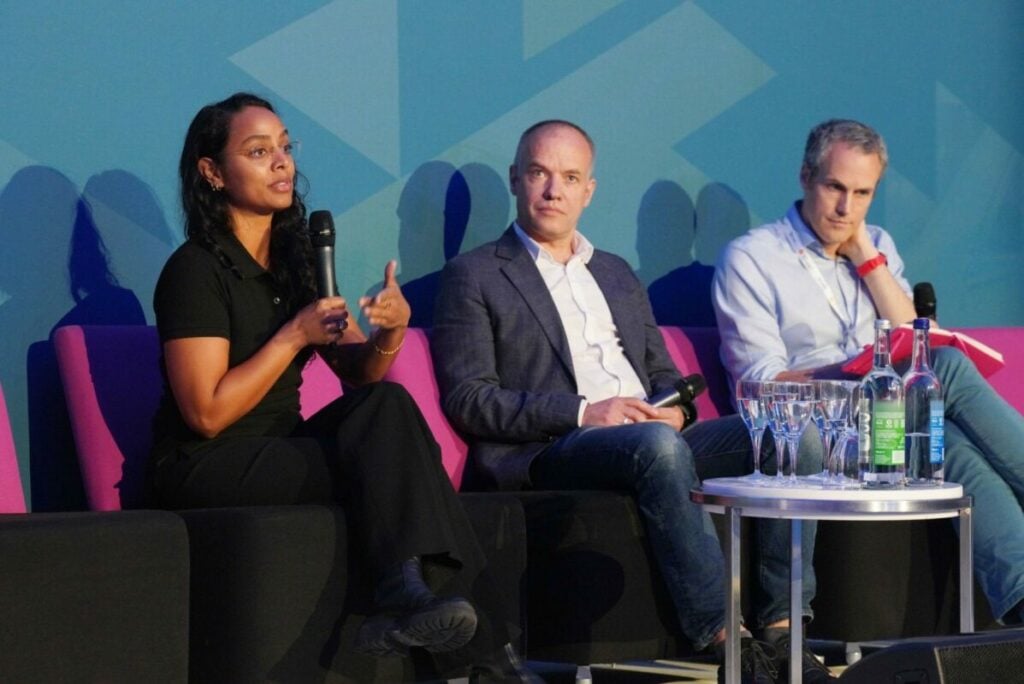 "We could save £400 million of investment if we are able to convince people to use electricity differently," Alex Howard, head of flexibility at UK Power Networks told the EV World Congress audience.
Flexibility offers many advantages. For instance, it can shift electricity demand away from peak periods as well increasing usage when there is a need to. EVs could hold the answer for this, particularly with the introduction of vehicle-to-grid (V2G) technology.
"If you're able to decrease and increase demand at certain times, there's value in it," Howard said.
This particular reasoning has seen the implantation of the hugely popular demand flexibility service (DFS) and this perhaps highlights the real potential of flexibility.
The previous DFS service which ran from November 2022 until March 2023, had 22 service events in total with 1.6 million households and businesses having signed up. In total, participants in the service managed to shift over 3,300MWh of electricity during peak times providing support for the grid during periods of increased strain.
Because of this, ESO recently confirmed that the service will run between November 2023 and March 2024 and consist of 12 test events alongside the potential use of "live" sessions. The first six of the tests are expected to take place before the end of 2023 whilst the remaining six will take place between January and March 2024.
Another interesting topic raised in the panel discussion was the idea of community charging. The premise of this is that one home has access to an EV charger which is then shared to other households. But there are issues with this.
Shareen Bodha, vice-president of marketing at Road said on the topic: "Opening to the whole public causes issues but it works well in smaller communities. The right technology is key to unlock this."
---
Championing collaboration to overcome grid constraints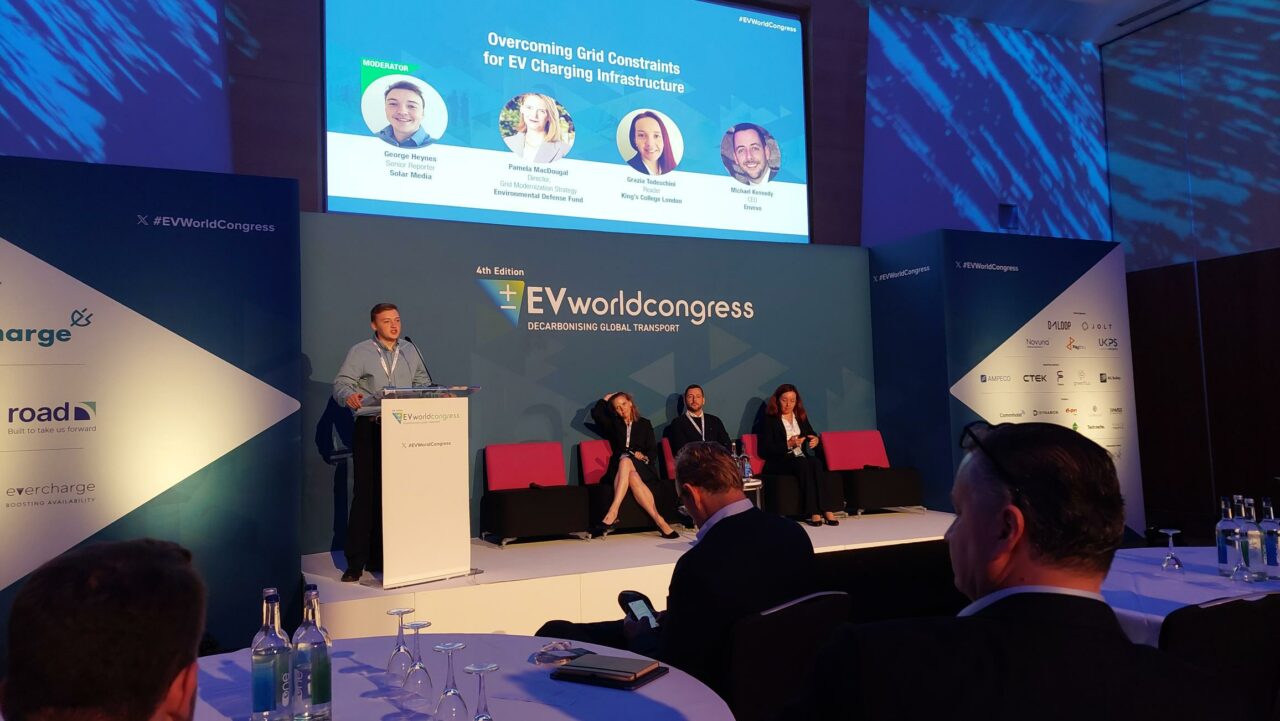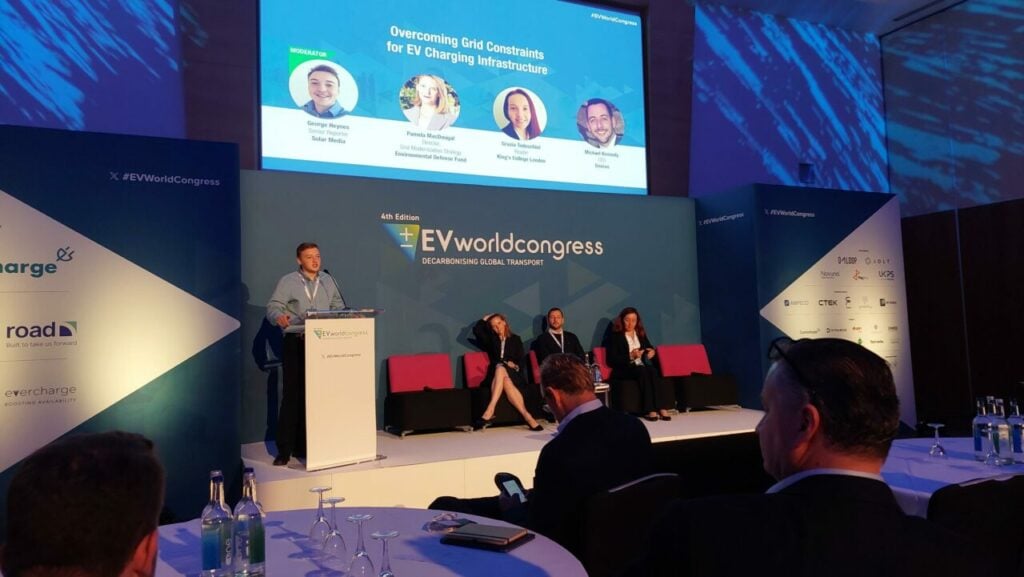 Addressing the issue of grid constraints during a panel discussion this afternoon at EV World Congress 2023, each panellist on the 'Overcoming Grid constraints for EV Charging Infrastructure' session agreed that a different language was spoken by distribution network operators (DNOs) and EV developers.
"Whilst working on different standardisation groups in the UK and the US, I've noticed that especially for large [connections] grid operators need to run large and complex studies, for which they need specific models and characteristics and sometimes developers don't understand why," said Grazia Todeschini, Reader at King's College London.
"At the same time utilities do not really understand these technologies [EVs] and their impact," Todeschini added.
When asked for examples which highlight how DNO and EV developers working collaboratively, Pamela MacDougal, director of the grid modernisation strategy at the US-based Environmental Defense Fund cited the National Grid which works both in the US and UK
"I think that they've done a really good job of developing out staffing as a single point of contact for fleets and charging developers to reach to understand the whole process of their projects, instead of having to go from one department to the next," MacDougal told the EV World Congress audience.
"And with that single department that's really engaging on charging and grid interconnection of chargers, it's been helpful for the utility to better understand where the fleets are coming from. But also for the fleets to gain education and have a person that understands their language and can educate them on line rates, as well as the various permitting and rebates that are available. And with that, they also offer fleet assessment services and technical support for fleets."
Michael Kennedy, CEO of chargepoint installer Envevo also highlighted the emergences of chargers with integrated batteries. This co-location between these two technologies, Kennedy explained lessens the strain on the grid as instead of requiring a 150kV from the grid a chargepoint will only need closer to 60kV.