New statistics released by the UK government today (27 July) confirm that renewables generated a record 41.5% (135TWh) of the UK's electricity in 2022.
According to the Department of Energy Security and Net Zero's (DESNZs) Digest of UK Energy Statistic Annual data for UK, 2022 report, renewable generation just outstripped gas which produced 40.8% (132.8TWh) of the UK's electricity mix last year.
Onshore and offshore wind were the key players generating the highest annual volumes ever, producing 35.2TWh and 45TWh respectively and 80.3TWh collectively in 2022 (59.5% of all renewable electricity).
These record generation figures helped renewables beat their previous record of 134.3TWh set in 2020.
New capacity was also much higher in 2022, highlighted the report, with 2.7GW of new wind capacity installed in 2022 including three new plants: Hornsea 2 in England (1,386 MW), Moray East in Scotland (950 MW) and the first part of Seagreen in Scotland (270 MW at the end of 2022).
According to the report, wind now represents 54% of installed renewable capacity in the UK, with the majority of onshore sites situated in Scotland.
Figure 1: Map of UK wind capacity 2022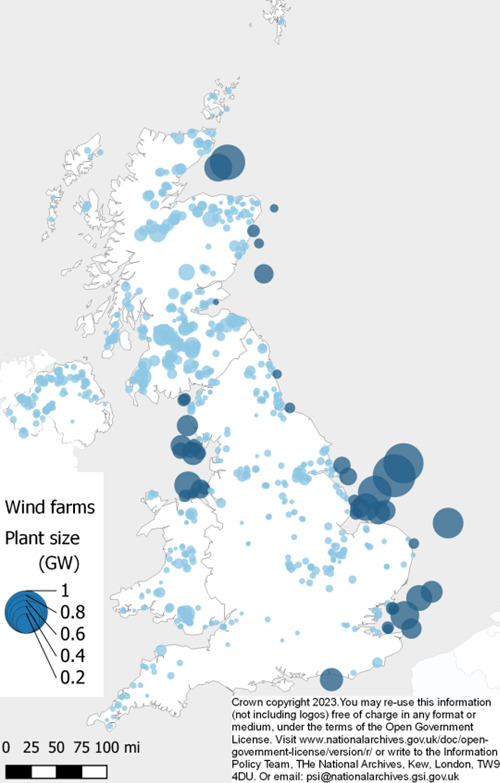 There was an overall upwards trend in renewable presence within the UK's electricity mix, highlighted by the report, which was primarily driven by increasing cumulative capacity, with generation in 2022 being the highest on record.
According to the report, solar photovoltaic (PV) generation has increased significantly since 2011 thanks to a surge in new capacity drawn by the Feed-in Tariff support scheme. This has led to solar's share of the UK's renewable generation catapulting from 0.7% in 2011 to 9.8% last year.
Figure 2: Trends in generation by technology 2000 to 2022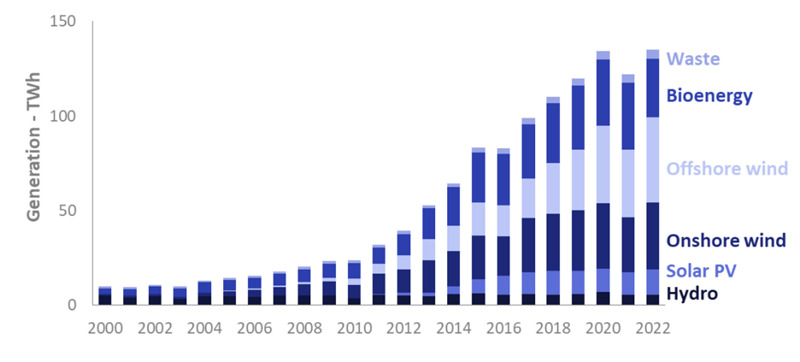 "It's great to see renewables setting new records across the board, generating record amounts of clean power last year, making us less dependent on expensive gas imports at the very time when fossil fuel costs rocketed up, causing an energy crisis which we're still grappling with," said RenewableUK's Chief Executive Dan McGrail commenting on today's statistics.
"Government and industry must pull out all the stops to increase our energy security by ensuring that vital new clean energy projects can be built faster, onshore and offshore. This is not the time to waver or row back on policies which accelerate the energy transition. On the contrary, we need more of a focus from government on ensuring we continue to unlock investment in renewables, and that the UK's secures the maximum amount of new jobs and manufacturing investment which could flow from the billions of pounds of private investment which our sector brings."
Rajiv Gogna, partner at LCP Delta added: "These numbers point towards the continued positive momentum of the UK switching its energy system over to renewables with more and more wind, solar and other sources increasing our capacity every week. So far this year (2023) we have seen similar generation figures for wind, staying above 24%, while solar has increased slightly over the first seven months to 5%."
Emphasising the benefits that increasing renewable generation can offer consumers, Gogna continued: "Looking behind these headline numbers of renewable generation is what this means for consumers. In recent weeks we have witnessed the UK break into negative intraday and day ahead pricing due to the abundance of renewable energy available on the grid, including a day where prices were negative for most of the day. These instances will becoming increasingly frequent in the future, especially while storage can't pick up the surplus, and means that consumers who can gain exposure to these prices through innovative tariffs can take advantage of these low prices at home. Renewable energy is not only a greener and cheaper form of energy and cuts bills for consumers but will increasingly result in negative pricing scenarios which create opportunities for people to save money."
Current± publisher Solar Media is hosting the third edition of its Wind Power Finance & Investment Summit Europe in London this 19-20 September. The conference will focus on investment strategies, alleviating bottlenecks, and which countries and technologies are the most exciting ahead as the industry sets to expand to help reach 2030 targets. Packed with industry leaders representing financiers, investors, developers, government departments and more this is the leading conference for decision makers in the European wind industry. More information, including how to attend, can be read here.