Shell Recharge's UK and Nordics regional manager Euan Moir told a Current± briefing today (13 July) that the EV sector was going through an important transition from an early growth phase to a mature market.
Moir was joined by John Murray, head of EVs at LCP Delta, as the companies discussed the findings of their latest EV Driver report, which surveys around 25,000 EV drivers from across Europe on their attitudes and experiences.
The annual survey has grown from 5,000 respondents two years ago, and is the largest of its kind, giving the companies a wide spectrum of experiences of EV drivers to understand the market with.
One of the main findings of the report showed that 42% of respondents were new to EV driving in the past 12 months, with 67% being new EV drivers in the past two years.
EV drivers are also not having to recharge so frequently as batteries are getting larger and chargers are getting more common, helping to dispel some of the range anxiety which was impeding adoption.
The market itself has also changed as adoption has increased, shifting from a supply constraint market to a demand constraint one. Previously, there weren't enough models on the market and we were seeing long lead times of over a year, Murray said. Car manufacturers have "largely got their ducks in a row, some of the issues around key components that are manufactured in China and other places, like semiconductors, those constraints have been overcome," he added.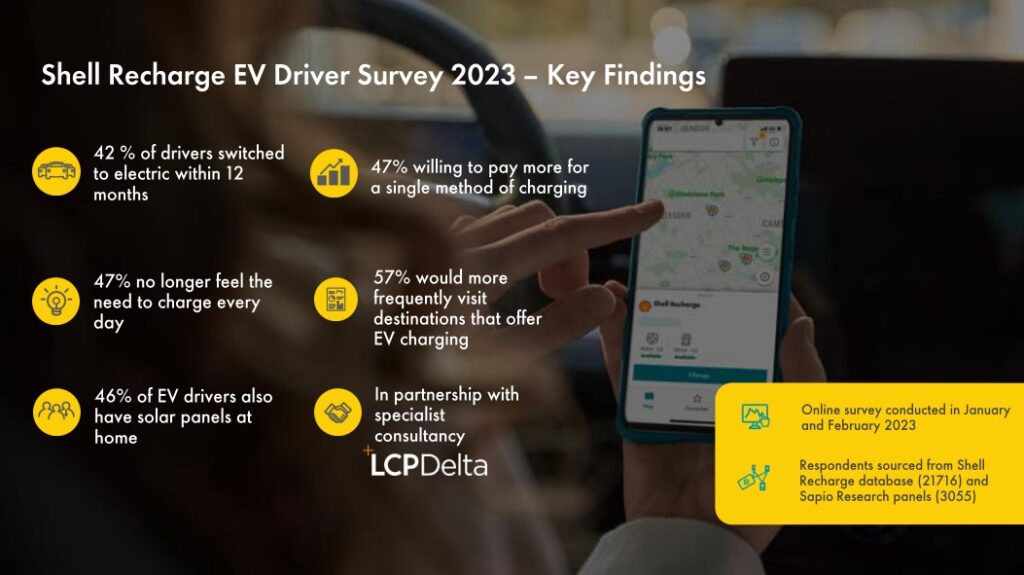 John Murray told the audience that demand for EVs has now started to soften. To address this, "Tesla made a high profile announcement that they were cutting prices for some models, putting volume over profit. On the other hand, some of the other competitors in the EV space, like Volkswagen have adopted a different approach and are manufacturing more vehicles than they are able to sell," Murray said.
This means customers have a lot more choice, but macroeconomic headwinds like rising electricity prices are also beginning to have an effect, according to Murray. These are giving prospective drivers pause for thought and the demand LCP Delta were forecasting a few years ago has now started to decline.
Moir said that the rollout of charging infrastructure is giving drivers more confidence, with almost half of drivers no longer feeling the need to charge on a daily basis. This is likely to continue falling as Zapmap has been reporting a 94% increase in ultra rapid chargers since last year. "Confidence is moving in the right direction. Almost half of drivers no longer feel the need to charge their vehicle on a daily basis, with only 14% now feeling the refrain from taking longer journeys," Moir added.
As different kinds of users enter the market, Murray said that a higher percentage of users will not have access to off street parking. "In the UK about 90% have access but by 2030 it'll trend down to 65%. These indicate increasing confidence as the market matures," Murray said.
Moving from the early adoption phase to a mature market also means companies have to collaborate, for example by entering into roaming agreements, Moir said. Under new public charging rules, users at all charge points of 8kW or higher must be able to pay by contactless payment and use third-party roaming services.
Shell's aim is to have 100,000 chargers in the UK of which 10,000 will be ultra rapid by 2030. More charging is needed everywhere, Moir said, but especially in the North West and Midlands to keep pace with the expansion of the market.
Murray also believes that collaboration is the key to the sector's future growth. "There's so many different players and they need to work together as no single company can work across the value chain. They need to come together to make a proposition for customers. We are seeing new companies collaborating each day which shows the move to market maturity," Murray said.
Moir said Shell Recharge welcomes continued action by government regulators to help that growth of the market: "the recent public charging regs are a great start and we welcome any steps from the government to support consumer confidence. It's important that the government and regulator continues to work with us to ensure everything is crystal clear and ensure we can meet those regs in the next 12 months."
However, Moir said Shell recognises there is work to do on improving reliability of chargers, and the company has plans to exchange earlier charging technologies with newer infrastructure. New regulations aiming for 99% reliability of public chargers means the industry is now focused on achieving that, but it is still a long way off.
Targets are important for achieving concrete progress in the rollout of EVs and the infrastructure they need, but with the 2030 ban on the sale of petrol cars moving ever closer, the EV market needs to evolve to accommodate new types of customer, and many more of them.