The Department for Energy Security and Net Zero (DESNZ) has revealed that electricity generated from renewable sources increased by 10.5% between 2021 and 2022.
This increase saw a total of 135TWh of electricity generated from renewable energy sources – a new record figure for the UK. It is worth noting that the renewable energy sources include onshore and offshore wind, solar PV, hydro power, landfill gas and other bioenergy.
According to DESNZ's UK Energy in Brief 2023 report, the increase on the year before is primarily due to "more favourable weather conditions and new offshore wind capacity". Offshore wind generation increased the most out of the renewable sources from 35.5TWh to 45TWh.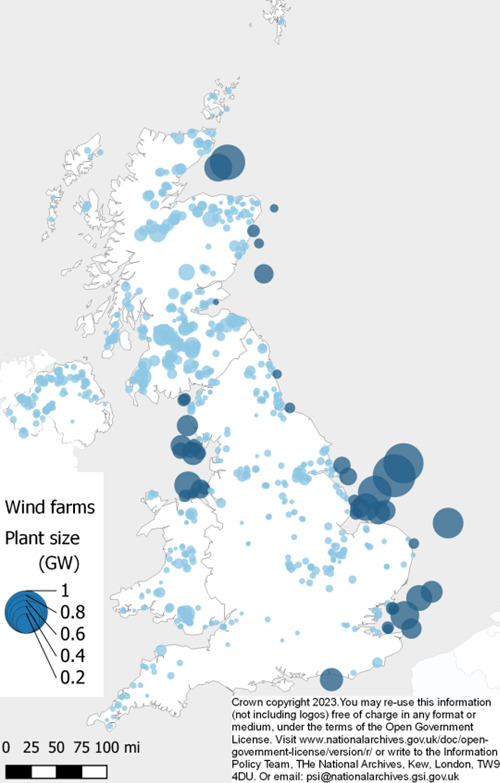 Although offshore wind in particular saw significant growth across the UK, it is also worth noting that onshore wind provided the second highest amount of renewable electricity with 35.2TWh – up from 29.2TWh in 2021. When these figures are combined, this means wind generation increased by nearly 24% to 80.3TWh despite a de facto ban on onshore wind developments in England limiting new projects.
For onshore wind, Scotland in this regard has been doing much of the heavy lifting with support from Wales and Northern Ireland. Research from RenewableUK in February 2023 revealed that in total, ten new onshore wind projects had been installed in 2022 adding a total of 318MW in capacity.
Six of these were built in Scotland, with a capacity of 314MW. One new project went fully operational in Wales, with a capacity of 2.5MW, and two in Northern Ireland with a capacity of 0.5MW. There was just one project in England, with a capacity of 1MW, comprising two turbines.
Alongside wind, hydro generation increased by 4.5% and solar PV generation increased by 10% and according to DESNZ, this was driven by longer average sunlight hours and 5.3% increase in capacity.
This increase in generation ultimately accounted for a record 41.5% of electricity generated in the UK during 2022. Gas however remained the highest electricity generator in 2022 providing 125TWh of electricity throughout the year.
Another important statistic to take from the report is that investment in the energy industry increased in 2022 year on year (YOY) by 1.4% to 16.7%.
Current± publisher Solar Media is hosting the third edition of its Wind Power Finance & Investment Summit Europe in London this 19-20 September. The conference will focus on investment strategies, alleviating bottlenecks, and which countries and technologies are the most exciting ahead as the industry sets to expand to help reach 2030 targets.
Packed with industry leaders representing financiers, investors, developers, government departments and more this is the leading conference for decision makers in the European wind industry. More information, including how to attend, can be read here.