New research by Cornwall Insight has found that flexible electricity usage would negate the need for four additional gas-fired power stations.
This would result in cost-savings of more than £2.5 billion whilst reducing the need for electricity wire and infrastructure upgrades saving an additional £1 billion in 2030, Cornwall Insight continued.
Conducted in partnership with campaign group Smart Energy GB, the research also revealed significant cost savings both nationally and for the individual consumer.
The data showed that household flexibility solutions such as time-of-use tariffs, which allow consumers to adapt their energy usage according to demand, could cut national wholesale and system electricity costs by an annual £4.6 billion in 2030, raising to £14.1 billion in 2040.
These savings would also be experienced on an individual level, with households participating in flexible energy initiatives able to cut wholesale electricity costs by over 14% in 2030 and as much as 52% in 2040 – translating to a predicted annual saving of £115 in 2030 and £375 in 2040 for an average household.
Additionally, the report found that if consumers used solar power and energy storage technologies during peak periods they could save hundreds on their energy bills.
Peak electricity periods in the UK typically fall daily between 4pm and 7pm and to meet this demand fossil fuel-generated electricity is typically used, costing more than the cheaper renewable alternatives such as wind and solar power.
This ultimately increases wholesale electricity costs, which in turn drives up consumer bills.
National and consumer savings under the flexibility scenario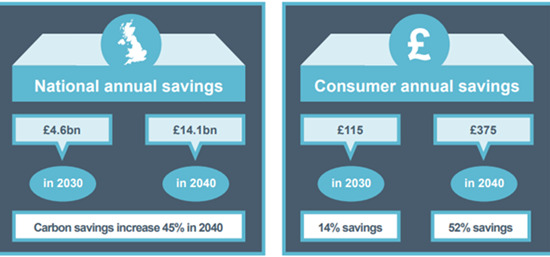 Overview of total savings under the flexibility scenario, £bn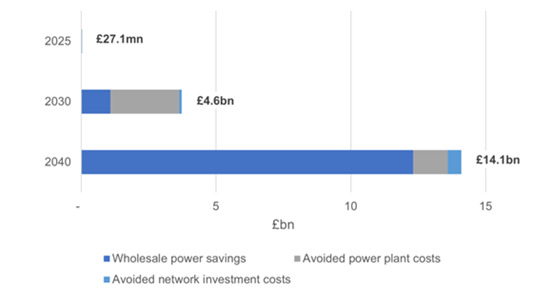 To unlock these savings, the market research company recommended encouraging the installation of smart meters so that consumers can access time-of-use tariffs and participate in flexibility service trails such as the National Grid ESO's (ESOs) Demand Flexibility Scheme (DFS).
ESO has been transparent about the success of the DFS, revealing that over 3.3GWh of peak electricity use was cut through the scheme, which ran across the winter of 2022/23. Its success was so great the ESO has proposed the return of the DFS this winter, a proposal widely supported by the public as 83% of DFS participants said that they would partake in the initiative again.
According to Cornwall Insight, even households that do not actively participate in flexibility schemes would experience cost savings due to a more efficient energy system resulting in lower wholesale prices.
"Our analysis has unveiled the immense potential of flexible household electricity use to support GB as it journeys towards a renewables-based system. By empowering consumers to become the architects of their own energy usage as well as supporting home decarbonisation technologies across the consumer base, the government can reduce expenses, alleviate strain on the grid, and even eliminate the need for additional costly gas-fired power stations," said Anna Moss, senior consultant at Cornwall Insight.
"This is a defining moment in our energy journey. Britain is moving along the path to a more electrified future, where household engagement with flexibility will enable us to reach net zero at lower cost, allowing consumers to realise the financial benefits associated. Smart meters play a pivotal role in this transition, providing crucial data and insights that empower consumers to optimise their energy use.
"By embracing household flexibility, we not only revolutionise our electricity landscape but also rejuvenate our commitment to a greener, more sustainable future."
Sara Higham, director at Smart Energy GB added: "The debate on how we can meet the country's growing demands for electricity often focuses on how we create more national infrastructure to generate more energy to meet demand, but this report clearly shows that there is another side to this debate: enabling and incentivising consumers to use the energy we generate in a more flexible way.
"This report clearly demonstrates the benefits of flexible energy use and the pivotal role played by smart meters in creating a flexible energy system. More than half of GB households now have a smart meter and the benefits to individuals and the country as a whole will only increase as installations continue."