New forecasting conducted by Cornwall Insight has revealed that the UK will likely narrowly miss the government's 50GW offshore wind by 2030 ambition.
The market research company's GB Benchmark Power Curve report, forecasted that the nation's offshore wind capacity will increase from 12.5GW between 2023 and 2024 to 47.1GW in 2030 – just missing the 50GW goal.
Rising costs causing delays to the deployment of offshore wind in the short to medium term were the reasons for this missed target.
This was most recently prevalent in the latest Contracts for Difference (CfD) auction round (AR5), which saw no offshore wind farms partaking. The price caps for AR5 were set at £44/MWh for fixed-bottom turbines and £116/MWh for floating platforms in 2012 prices. As of 2023, the inflation adjusted strike prices stand at £60.46/MWh and £159.40/MWh respectively. Will Sheard, director of analysis and due diligence, engineering consultancy firm, K2 Management, deemed these strike prices as "simply too low" to be viable for offshore wind projects facing the rising costs of capital.
According to Energy UK, the cost of capital, alongside Electricity Generator Levy and supply chain difficulties has caused costs in developing low carbon generation projects to increase by between 20% to 30%, with some quoting 50% for specific projects.
Rising costs also forced the cancellation of one of the UK's largest offshore wind farms – Vattenfall's Norfolk Boreas due to output 1.4GW – for which construction was suspended due to a 40% rise in the costs of production.
Offshore wind still forecast to dominate GB's electricity mix
Despite the disheartening forecast, there is wind in the technology's sails yet as Cornwall Insight predicted that offshore wind will become the largest source of electricity – in terms of capacity – by 2028, making up 26% of Britain's generation capacity by 2030.
Future electricity generation capacity breakdown: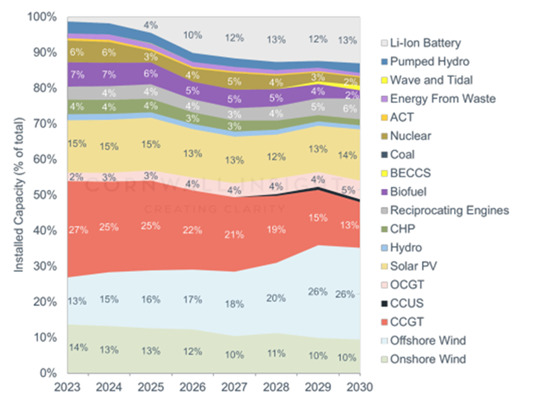 Decreasing power prices to remain higher than the pre-energy crisis levels
Within its analysis of power prices, the report estimated that projected prices will show little movement before peaking at almost £130 per MWh in 2023 and falling to just over £80 per MWh by 2030.
In spite of the decrease, these estimates remain at least 60% higher than pre-2021 averages of less than £50 per MWh.
Power price forecasts – average price per fiscal year: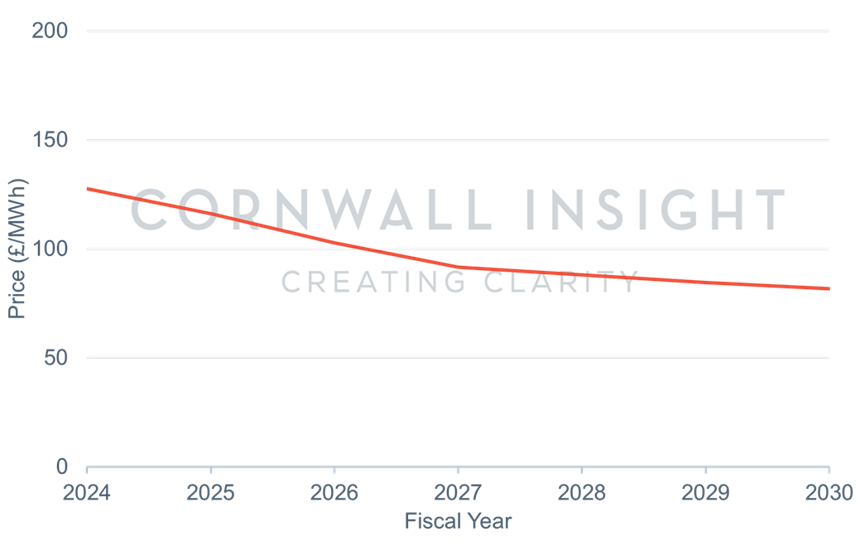 "Offshore wind delays, spurred on by cost worries and project setbacks, pose a roadblock to reaching net zero. We can see the country is travelling in the right direction towards a renewables-based electricity system, however, our estimates continue to show it is simply not fast enough to deliver on government targets," said Tom Edwards, senior modeller at Cornwall Insight.
"Time is of the essence, and it is critical that the government reassess its commitment to accelerating renewable energy adoption, which includes being more flexible when setting auction parameters to reach the UK's offshore wind goals.
"Rolling back our net zero ambitions and slowing our transition away from fossil fuels is likely to be a costly delay that will not only see us fall further behind in decarbonising the country but will leave consumers shouldering the prolonged burden of high prices. Without a resolute commitment to a greener and more sustainable future, achieving net zero emissions and pre-crisis energy bills becomes an increasingly elusive goal."